MENVIPRO Summer School: Day Four – Food, Food Science and Food Safety
September 10, 2021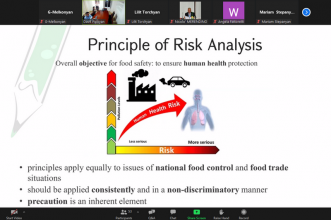 The fourth day of MENVIPRO summer school was completely devoted to food, food sciences and food safety. Thus, Prof. Nicolò Merendino and Dr. Lara Costantini spoke about food safety and human nutrition. The production of food depends upon soil and water quality and agronomic techniques, and must embrace food security, i.e., the supply of nutritious food in sufficient amounts, and food safety, i.e., food without contaminants and toxins, which could creep up human health. Therefore, the course aims are to provide students with knowledge on Food security, from a nutritional point of view, food safety and environmental risk assessment and on environmental toxicology.

David Pipoyan presented food safety risk assessment course, which is a combination of the basics of food safety, food protection and chemical risk assessment. The course is elaborated for students in the field of environmental protection studies so the case studies will be linked to the environmental contamination issues, giving an opportunity to participants to distinguish acute and chronic risk assessment mythologies; discuss the toxicological risks of food-borne chemicals; compare and apply dose response models.

The last speaker of the day was Meline Beglaryan speaking on environmental toxicology. The harmful effects of various hazards on human health are an important and timely subject. Environmental toxicology is a multidisciplinary field of science which deals with the effects of hazards. The course is designed to give an overview of different aspects playing a role in the challenging field of environmental toxicology. The aim is to present the fundamentals of environmental toxicology, including the main toxicological concepts and principles, classification of toxic agents, their exposure routs, as well as induced adverse effects and associated potential health risks. The gained knowledge is essential towards implementation of different approaches for the elimination and prevention of adverse effects of toxins.