Department of Radio Engineering and Communication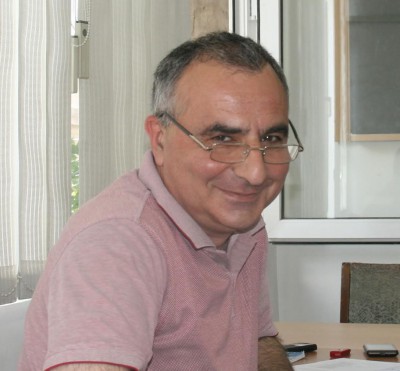 Head of Department
Tigran Vanik Zakaryan
PhD in Physical and Mathematical Sciences

The Department of Radio Engineering and Communication of the International Scientific- Educational Center of the National Academy of Sciences of the Republic of Armenia was founded in 2007. The establishment of the department proceeded from the need to recognize the areas of information technologies and telecommunication as priority directions in the development of the Republic of Armenia.

---
Department Objectives:

To provide conditions for the effective organization of the learning process; realistic assurance for the telecommunication and communication specialists' competitiveness.
To create appropriate conditions for the effective functioning of the student-centered learning system.
To carry out scientific-methodological and research activities in the priority areas of the department.
To create conditions for the education quality assurance.
To expand international cooperation.
To provide with the professional information sources
To provide the unity and integrity of educational, research and innovative processes.
To improve the content and organizational components of learning, research and teaching practices.
To implement cooperation with career centers and structures for the purpose of providing graduates with professional work.

---
Specialization – Telecommunication

---
Research Activities

The research projects are carried out in the Institute of Radio Physics and Electronics - www.irphe.am. Currently research activities and developments are being conducted in the following areas:
VHF transmitting and receiving systems for studying the earth and atmosphere.

Radiolocation systems.

Communication systems.

Dynamic management of the physical parameters of semiconductor technological processes.

Development of new solar energy transformers based on heterostructures and nanostructures.

Generation and dissemination of electromagnetic waves caused by the movement of charged particles in the plasma.
Once in every two years the Institute organizes an international conference "International Conference on Microwave and THz Technologies, Photonics and Wireless Communications" http://www.irphe.am/?q=conference.

---
The Faculty


| | |
| --- | --- |
| Tigran Zakaryan | PhD in Physical and Mathematical Sciences |
| Arsen Hakhumyan | Doctor of Physical and Mathematical Sciences, Professor |
| Hamlet Piroumyan | Doctor of Technical Sciences |
| Tamara Knyazyan | PhD in Technical Sciences, Associate Professor |
| Armen Makaryan | PhD in Physical and Mathematical Sciences, Associate Professor |
| Samvel Khachatryan | PhD in Physical and Mathematical Sciences, Associate Professor |
| Vahe Tadevosyan | PhD in Physical and Mathematical Sciences, Associate Professor |
| Hovhannes Haroyan | PhD in Technical Sciences, Associate Professor |
| Arthur Petrosyan | PhD in Technical Sciences |
| Nubar Poghosyan | Radio physicist, lecturer |
| Vladimir Oboyantsev | Engineer system technician, lecturer |
| Hrachya Makaryan | Radio physicist, lecturer |
| Kristine Hovhannisyan | Coordinator of the Department of Radio Engineering and Communication |
---
Tel: (+374 10) 287850

E-mail: msradio@irphe.am