Department of Environmental Protection and Nature Management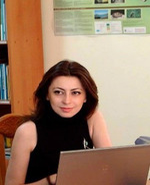 Head of Department
Lilit Sahakyan
PhD in Geographical Sciences

The Department of Environmental Protection and Nature Management ISEC NAS RA was established in 2010 at the Ecocenter on the basis of its logistical and professional resources. The Department employs competent personnel, Department's teaching staff consists of highly qualified researchers and specialists in the area of science and education, who both deliver lectures and provide hands-on experience to MS students.





---
Department Objectives


Preparing high-quality Masters of science on specialty "Environmental Protection and Nature Management" skillful enough to apply up-to-date research methods; promoting international scientific and educational collaboration within the scope of the given specialty; upgrading the current curricula, developing and publishing articles, scientific and methods manuals and guidelines.
Since 2017 the Department has been enrolled in the Erasmus+ "International Credit Mobility" and "Capacity Building" programs in partnership with top-ranked European universities. These programs open the opportunity for MS students to acquire hands-on knowledge at the universities of Tuscia, Naples (Italy), and Krakow (Poland) and also conduct researches in ERLER inter-University education and research facility -unique in Armenia.
---
Specialization - Environmental Protection and Nature Management
---
Research works


Over the last five years, the staff of the Department has published 5 monographs and methods manuals and more than 100 scientific articles in many international peer-reviewed journals. In 2019 and 2020 alone, were published more than 20 scholarly articles. Since the very first day of the Department foundation, its staff has been dealing with research activities, namely, the defense of PhD theses, participation in local and international symposia, seminars and training courses, implementation of international programs in close cooperation with colleagues abroad.
---
The Faculty

Lilit Sahakyan

PhD in Geographical Sciences

Gayane Babayan

Doctor of Geographical Sciences

Vahagn Muradyan

PhD in Geographical Sciences

, Associate Professor


Shushanik Asmaryan

PhD in Geographical Sciences

Marieta Avetisyan

PhD in Geographical Sciences

Davit Pipoyan
Doctor of Food Science (

Italy

)


Olga Belyaeva

PhD in Biological Sciences

Gevorg Tepanosyan

PhD in Biological Sciences

Gayane Poghosyan


PhD in Biological Sciences

Gayane

Nersisyan

PhD in Biological Sciences

Nver Torosyan

PhD in Technical Sciences

Amalia Muradyan

PhD in Biological Sciences

Meline Beglaryan

PhD in Technical Sciences

Gayane Melkonyan

Coordinator of the Department of Environmental Protection and Nature Management

Kristine Hakobyan

Coordinator of the Department of Environmental Protection and Nature Management
---
Tel. (+374 10) 572924

E-mail: info@cens.am,ecocentr@sci.am

---