MENVIPRO: Kick off Meeting of Erasmus + Capacity Building Project in Armenia
January 17, 2019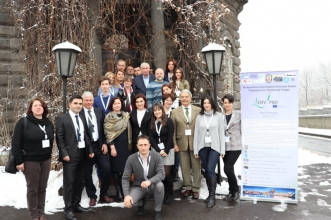 On 14-15 January, 2019 Erasmus+ KA2 "Modernization of Environment Protection Studies Programmes for Armenia And Georgia" (MENVIPRO) project Kick Off Meeting took place in theCenter for Ecological-Noosphere Studies (CENS) of National Academy of Science of RA, Yerevan, where "Environmental Protection and Nature Management" Department of ISEC NAS RA is located. The overall objective of the project is to significantly improve the quality of MSc. studies in the field of Environment Protection in Armenia and Georgia on the basis of complex modernization of the curricula in line with the Bologna principles, Salzburg principles of EAU and best European practice.

The curricula development will be firmly based on the analysis of the best practice obtained in Europe, target countries and beyond and incorporate the latest innovations in educational technologies. University-society-industry links will play also a key role to guarantee high employability of graduates. In order to radically modernize the MSc. education in EP – technology-intensive domain of knowledge, the project will establish a unique inter-University education and research facility, which will be used for student projects, collaborative projects with external stakeholders and demonstration activities to reinforce links to the University environment and promote environment-friendly mindsets. The ERLEP will represent one of the major tangible outcomes of the project and will define the quality standards of postgraduate studies in the field of EP for many years.

Moreover, the ERLEP will provide the access to a modern laboratory infrastructure and enable various projects between Universities and external stakeholders. At the kick off meeting, the representatives of the European and Partner Country universities discussed in details the workpackages of the project, ways and procedures of implementing this project, as well as the project coordinators presented the draft version of the project website and working procedures. In the course of the kick off meeting, the academic staff "Environmental Protection and Nature Management" Department of ISEC NAS RA presented the labs they work at, subjects they teach and marked possible ways of cooperation with their European partners.