Defense of Master's Theses of Online MBA Program
January 29, 2020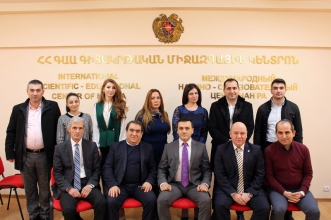 On January 25, 2020 in the newly opened hall of International Scientific-Educational Center of National Academy of Sciences RA was held the defense of the thesis of students of joint master's degree program "Business Administration (MBA)" of the Public Administration Academy of RA and International Scientific-Educational Center of NAS RA. The thesis were successfully defended by 10 master students of the ISEC NAS RA and PAA RA.

The defense was quite interesting: the students were happy and excited that they would be the first masters trained via distance education, and assured that the knowledge and skills they gained would greatly help to advance their professional field and further their career path.

The International Scientific-Educational Center of NAS RA has been implementing distance education program since December 2014.

At the current stage of the development of science and technology, distance education is widespread in the field of continuing education, enabling interested persons to receive relevant education online or to participate in training courses at their convenient place and time.

Distance education is a form of systematic learning where the direct and indirect learning process between the learner and the teacher is mainly carried out by information technologies and telecommunications.

The purpose of distance education is to enable students of higher education institutions to learn basic and additional vocational education programs without leaving their place of residence.

Assessment in distance education is done through online video conferences, participation in forums, online assignments, intermediate and final exams. Only final exam and master thesis defense are conducted with the student's direct participation.