"The development of one's own values and the perception of knowledge as a value is the biggest achievement during my years of study at ISEC", Lilit Aslanyan, a postgraduate student of ISEC.
April 25, 2023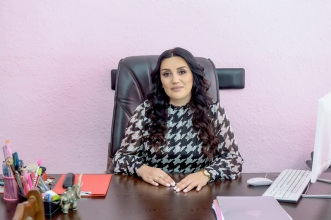 Lilit Aslanyan is a postgraduate student of International Scientific-Educational Center of NAS RA Department of Journalism, who received her bachelor's degree at the Faculty of Philology of YSU.

"There was a period of significant changes in my life, and on the way to overcome difficulties, I decided to get another specialty, when I accidentally came across an announcement on social media about admission to ISEC Master's degree program, and without consulting anyone, I decided to enroll," says Lilit.

"With my basic education, I had the option to choose between two careers: a psychologist or a journalist. I can't say for sure why I chose the profession of a journalist. On the day of the exam, I went to the Center alone. A few days later I found my name in the list of admitted candidates. When I returned home, only then my family members found out that I was enrolled in a Master's degree program, - says Lilit and continues, - then my mother reminded me that when I was young, I admired all the beautiful buildings on Baghramyan street and dreamed of being inside them. And so it turned out that I took classes at the American University of Armenia and studied at the International Scientific-Educational Center of NAS RA, and later, due to my work, I visited the residence of the President of Armenia and at the RA National Assembly," remembers Lilit.

When talking about ISEC, the development of one's own values and the perception of knowledge as a value, thanks to the Center, is noted by Lilit as the greatest accomplishment during the years of study. " ISEC strives to develop skills and learn best through practice in addition to transferring academic knowledge. I would like to express my sincere gratitude to the wonderful teaching staff members Vardanyan and Kharatyan. Here I lived two years of full and wonderful student life, and I made good student friends here. "ISEC played a significant role in the journey of my self-discovery."

Currently Lilit Aslanyan is the principal of secondary school No. 82 named after G.Poghosyan. She once worked in the field of journalism, but later she decided to pursue a career in education, in particular, work at a public school, although as to Lilit, the profession of a journalist makes it possible to easily and patiently solve all the problems and master the art of efficient communication with people.

According to Lilit, the key to success at work is first of all love and hard work, and Lilit's recommendation to ISEC students is to love their profession and occupation, to work efficiently and dedicatedly in the future, and to be able to gain public trust as an experienced specialist in the field.
Public Relations and Career Department of ISEC NAS RA