Towards More International PhD Education
August 23, 2019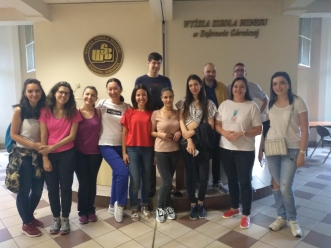 On August 11-17, Tatev Shahinyan, a PhD student at Economics Institute of NAS RA, was at WSB University in Dąbrowa Górnicza, Poland, as a part of "Prom - international mobility of PhD students and academic staff" program based on the initiative of Foreign Affairs Department of ISEC NAS and within the frames of collaboration agreement signed between ISEC NAS RA And WSB where they had meetings with university lecturers and got acquainted with the main scientific directions of university research.
Each participant presented the scientific directions and features of their HEIs. Tatev Shahinyan particularly the research carried out at Institute of Economics of NAS RA, as well as her PhD research dedicated to the examination of crypto currency, which was followed by tense discussions, questions and answers.
The participants of the summer school had a meeting with Professor Sroka (Włodzimierz Sroka, PhD, an associate professor at the Management Department of WSB University) , who was the Senior Editor of the European Journal of International Management. The professor presented the scientific directions of the journal and the procedure for publishing articles.
The series of meetings were concluded with discussing the prospects for further cooperation.