The Scientific-Educational Center shall continue to effectively enforce the activities performed by the program "ARMDOCT"
November 25, 2020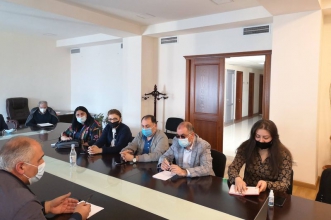 In accordance with the requirements of the academic community, industry and EU experience (ARMDOCT) program, the online meeting-discussion of the WP2 "Graduation" subgroup of the Erasmus + Doctoral Education Reform in Armenia was opened on 19 November 2020 by the coordinator of this subgroup Atom Mkhitaryan.

Representatives from partner universities / organizations participated in the meeting from the International Scientific-Educational Center of NAS RA, Vanadzor State University, Yerevan State Medical University, Brusov State University, Polytechnic University, NAS Institute of Informatics and Automation Problems.

- Strengthening the role of HEIs and extending the roles in the academic degree award process, More discussions on the role of the SCC and Functions,

- The need to review the dissertation criteria (volume, links, published articles, abstract, etc.),

- Division of dissertation requirements for natural sciences, humanities and social sciences,

- An examination of the requirements submitted to the members of the professional boards,

- Continuation of discussions on the number of Professional Council members, search for the best possible choices,

- Discussion of the expediency of the involvement of international experts in the professional council, implementation of structures that take account of financial possibilities,

-Increasing the remuneration of the experts involved in the process of dissertation defense (members of the professional council, opponents, etc.)

- The need to implement frameworks for an appeal option

- Incorporation into the graduation phase of academic honesty, ethical rules and mechanisms, introduction of efficient mechanisms for fighting plagiarism,

- The consolidation into a single document of all sub-legislative documents governing the method of awarding a scientific degree, with a view to clarifying mechanisms for preventing deviations;

- Discussions on the need to preserve the present second degree of science, active participation by all stakeholders,

- Continuation of discourse on the quality and quantity of scientific publications required,

- Implementation of mechanisms for publicising the defense process of the dissertation, participation of experts,

- The need for the proposals submitted to be synchronized with the draft law on higher education and science.