The international project on third level higher education reform has been launched
February 6, 2020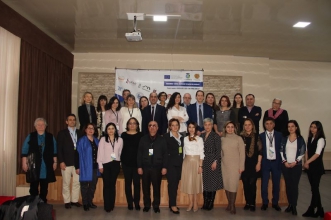 Erasmus+ CBHE "ArmDoct" Project - Reforming Doctoral Education in Armenia in Line with Needs of Academia, Industry and Current EU Practices (

www.armdoct.com

) was launched on 4-5 February, 2020.
Under the coordination of Eurasia International University, the representatives of 15 institutions, including HEIs from 4 EU member countries, as well as the Ministry of Education, Science, Culture and Sport of the Republic of Armenia, came together to discuss the state-of-art of 3rd level education in Armenia and to refine the national policies, legal frameworks, and institutional procedures supporting integrative and internationally-oriented doctoral studies. "
ISEC is a member of the ArmDoct 3-year-long project consortium and will create a doctoral school", - says the coordinator from ISEC, Scientific Secretary Dr. Atom Mkhitaryan.


The event was attended by the ISEC Director Prof. Albert Sargsyan and other representatives of ISEC NAS RA.