Study Tour of MENVIPRO: Day Three
April 8, 2019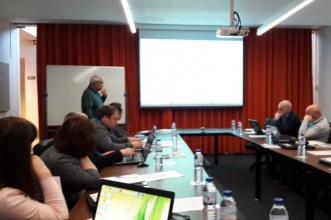 On 3 April 2019, the study tour of MENVIPRO Erasmus+ capacity building project is continuing at Instituto Superior Tecnico de Lisboa (IST UL), Lisbon, Portugal. In the first part of the meeting, the partner from the UL Fernando Carvaiho presented the background and experience of Portugal in the surveillance and measurement of radioactivity, which can be used by the partners while developing the syllabi of their courses. During the discussion followed after the presentation, ISEC lecturer Olga Belyaeva, Head of Radioecology Department at CENS presented the exlcusive and unique role of CENS in radioecological risk assessment as a center dealing with this issue both in scientific and educational terms.

In the second part of the meeting, the participants discussed administrative and organizational matters related to more effective organization of the further actions of the project.

Later the coordinator of Mining and Geological Engineering program presented their Master's degree program. It's noteworthy that in this academic program the Master's dissertation are supervised by two supervisors – academic supervisor and a supervisor from the company where the student has a three-month-long training, which the student passes by submitting a report.

The coordinator of Human Biology and Environment also presented the structure of this Master degree course, the distribution of ECTS credits, procedures for training (internship) and Master's thesis. In the case of this program, at the end of their studies the students can't defend a traditional a Master's dissertation or submit a report if their Master dissertations contain confidential information. Most students have the second year of their studies in another univeristy within the frames of mobilities.

At the end of the day, the representative of the Agency for Assessment and Accreditation of HEs presented the features of program accreditation in Portugal.