Study Tour of MENVIPRO: Day Four
April 9, 2019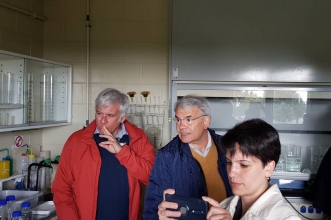 On 5 April 2019, the study tour of MENVIPRO Erasmus+ capacity building project is in the last stage at Instituto Superior Tecnico de Lisboa (IST UL), Lisbon, Portugal. In the first part of the meeting the partners discussed project dissemination activities, and Arusyak Harutyunyan, Head of Foreign Affairs Department of ISEC NAS RA presented ISEC's webpage devoted to MENVIPRO project and spoke about the principles of project dissemination.

In the second part of the meeting, a visit was paid to the Environmental Radioactivity and Radioprotection Laboratory where the participants learned about the methods of gamma and alpha spectrometry, liquid scintillation methods and up-to-date equipment.

The meeting was finalized with the discussion of follow-up activities and the summarizing speech of the project coordinator.