Research-based Education with High Performance Liquid Chromatography
June 4, 2021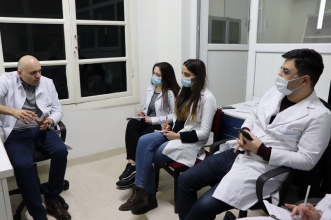 Environmental pollution assessment requires early detection of modern technologies, chemical hazards and accurate analytical approaches. The latter are especially used for the identification and quantification of chemicals that can have a negative impact on flora and fauna, as well as on public health. Numerous studies on environmental pollutants are performed using chromatography.
The use of high-performance liquid chromatography (HPLC) is preferable for the examination of a number of materials.
The HPLC is particularly important in assessing the potential health risks associated with food consumption, taking into account the content of the element in the food. In this case, the HPLC has great potential and can significantly contribute to the improvement of the risk assessment process.
Since 2018 International Scientific-Educational Center (ISEC) of NAS RA and Center for Ecological-Noosphere Studies (CENS) of NAS RA have been implementing "Modernization of Environment Protection Studies Programmes for Armenia And Georgia" (MENVIPRO) Erasmus+ capacity building project (https://www.menvipro.eu/).
For the purpose of the modernization of Environmental Protection Studies, a unique inter-University education and research facility, ERLEP, is established at Department of Environmental Protection and Nature Management of ISEC NAS RA based in CENS https://www.isec.am/erlep-lab.
In order to update laboratory infrastructure, an HPLC (Waters e2695, Milford, U.S.A.) was acquired in 2021, which enables to expand the scope of research projects. In addition, the opportunity for students to participate in lab operations should be outlined. Students' participation in the laboratory contributes to the formation and development of their practical skills.
David Pipoyan, Head of Risk Assessment Center at Ecocenter, ISEC lecturer, assures: "It is important to create a learning environment that allows students to better understand research, methods, and data analysis. I am pleased to note that the availability of laboratories equipped with the necessary equipment is extremely important, which allows ISEC students to participate in various laboratory work and research. It develops critical thinking and helps to form skills needed to solve complicated problems in research."
ISEC Public Relations and Career Department