Representatives of the ISEC NAS RA take part in a three-day conference
March 2, 2021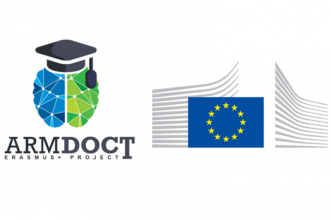 A three-day workshop will be held in Tsakhkadzor on March 4-6 within the framework of the ARMDOCT Capacity Building Grant Program, in accordance with the requirements of the academic community and industry, in accordance with EU experience and EU ERASMUSplus Reforming Doctoral Education in Armenia. The event will feature Naira Hakobyan, Deputy Director for Scientific Research, Dean Atom Mkhitaryan, Head of the Chair of Management Karen Sargsyan, Deputy Head of the Chair of Economics Narine Manukyan, and Arusyak Harutyunyan, Head of the Foreign Afairs Department.

The conference will be held in a "hybrid" format, offline for delegates from Armenian universities and remote for partners from Europe. The conference's agenda includes topics such as the structure and management of the tertiary level of higher education, as well as the presentation and discussion of the requirements of Armenia's national policy for the advancement of doctoral education.

Atom Mkhitaryan PhD, Associate Professor and Dean of ISEC NAS RA, who is also the coordinator of the aforementioned program and a member of the working group establishing the concept of the third level of higher education, will present a report on dissertation defense concepts. He anticipates that the conference participants would approve the idea he established in advance.