ISEC holds regular meetings with students. Meeting-discussion with the 1st and 2nd year head students of the current programs of the ISEC NAS RA
February 22, 2021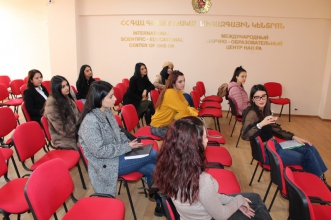 On February 19, 2021 the Dean of the International Scientific-Educational Center of NAS RA A. Mkhitaryan's initiative, a meeting-discussion was organized with the Center's Public Relations and Career Department, Student Council, Student Scientific Society and 1st and 2nd year head students. About 30 people participated in the discussion with online and offline formats.

The goal of the meeting was to improve the relationship between the center and the student, to research the issues, concerns and suggestions posed by the students, and to find solutions through joint efforts. The concerns posed by the head students addressed the availability of the required literature, curricula and the distribution of tuition fees, tuition fee discounts, the increase in foreign language classes, master's theses, the increase in practical skills and other subjects. The organization of non-formal education courses was discussed, as well as students' participation in summer schools in Armenia and abroad

It was planned to have meetings, at least twice a semester, on a regular basis.


Public Relations and Career Department