"Due to ISEC education I Succeeded as a Professional Social Pedagogue", - Varduhi Sargsyan, an ISEC Master's Graduate.
July 20, 2023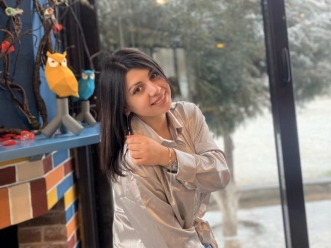 Varduhi Sargsyan is a Master's graduate of the Department of Social Pedagogy of the International Scientific-Educational Center of NAS RA.

- What impact did the education you received at the International Scientific-Educational Center of NAS RA have on your life?

- The ISEC NAS RA played a significant role in my life by providing me with the chance to take courses with a variety of different topics, including "Pedagogical communication skills," "Social-pedagogical consultation," "Theory of inclusive education," "Legislation in the field of education," and "Professional orientation and self-determination." For the formation of socio-pedagogical thinking, our discussions in each of these courses and the presentation of the theoretical material by the qualified teaching staff were crucial. The education we received at ISEC went beyond merely imparting theoretical knowledge because we had the chance to put that knowledge into practice and develop our skills in environments that placed a strong emphasis on the social pedagogue's roles and functions. Obviously, all of this knowledge had a big impact on our future performance, our capacity to get hired, and how well we represented ourselves as professionals in the workplace.

- Why did you decide to become a social pedagogue and study at ISEC?

- I can say for sure that ISEC is the best place to study Social Pedagogy master's program and I have always thought of it as the only option. Social pedagogy is a profession that is in high demand right now but choosing an up-to-date profession is not the only way to ensure success in your future endeavors. The ISEC where I chose to study at and become a social pedagogue played a significant role by providing me all the qualifications required by the employer. I can state that I became more confident in my choice after getting to know the teaching staff of ISEC and receiving a high-quality education. In other words, my decision served as the cornerstone for further success.

- What impressed you mostly during your years of study at ISEC?

- Obviously, every lecture, every encounter was impressive, but I will specifically single out the days when we first met the students in person after the epidemic. We all had such an interesting and meaningful days that we often forgot to go home after lessons.

- To what extent did the studies you received at ISEC contribute to your professional growth?

- I made a commitment to fall in love with my profession all over again and to only record professional growth as a result of the education I received at ISEC. All of the theoretical information I learned during my earlier years of study at ISEC became practical abilities and skills, and more importantly, they were put to use in the workplace. I tried to put the concepts I had come up with during my undergraduate years into practice by equipping myself with new and useful knowledge, fascinating ideas, learning new skills, and new knowledge.

- What was the biggest achievement while you were a student at ISEC?

- There were many accomplishments during the years of study at ISEC, but I would like to single out my research I did for my graduation thesis, which was some kind of significant series of discoveries for me as a specialist. Because it helped shape research thinking, the research work was already a success in and of itself.

- Where do you currently work?

- I have been working at the Kotayk Territorial Pedagogical-Psychological Support Center as a social pedagogue for three years. Due to the nature of my work, I interact with teachers, specialists, parents, preschoolers and teenagers. I take great responsibility in carrying out the duties of a social pedagogue because I genuinely love what I do.

- As an ISEC graduate, what would you recommend to other ISEC students?

- I would advise the ISEC master's students to make the most of every opportunity and moment that ISEC provides, to be as efficient as they can to use the information provided by professors, and to develop a strong professional vocabulary. And finally, in addition to becoming a good professional, to keep in mind to take part in fun activities with the Student Scientific Society and cherish their memories of undergraduate years.


ISEC NAS RA Public Relations and Career Department