MENVIPRO Summer School: Summarizing Day One
September 7, 2021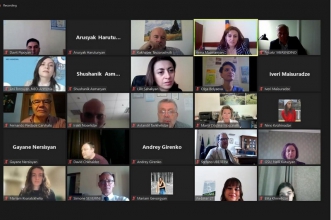 The official opening ceremony of the free online Summer School "Environmental Science Education for Sustainable Human Health was held this afternoon within the framework of the Erasmus+ Capacity Building MENVIPRO (Modernization of Environment Protection Studies Programmes for Armenia and Georgia) project on 6 September, 2021․

Opening remarks and presentations were made by Project coordinator Prof. Nicolo Merendino, Carlo Calfiapietra from Italian National Research Council, the Rector of University of Tuscia, RA Deputy Minister of Environment Anna Mazmanyan, representatives of Armenian, Georgian and European partner universities, NEO-Armenia Programme Officer Ani Torosyan. Within the frameworks of the summer school, ISEC Foreign Affairs Department Head Arusyak Harutyunyan gave a welcome speech presenting the activities of ISEC in brief.

During the meeting, more than 90 participants got acquainted with MENVIPRO project partner Universities and organisations, including "Environmental Protection and Nature Management" Department of ISEC NAS RA, as well as the new video on MENVIPRO project implementation was premiered. The first day ended with professional discussions by listening to interesting lectures on "Microplastics and nanoplastics environmental contamination and human dietary exposure" and "Toxicological risk assessment as a component of the One Health approach" presented by Dr. Francesco Cubadda and Dr. Alberto Mantovani from Italian National Institute of Health.