MENVIPRO Study Tour Launched: First Day
April 2, 2019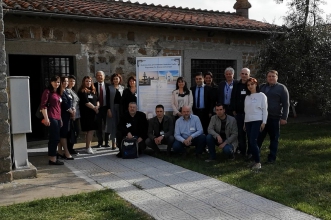 On 1 April 2019, the study tour within the frames of MENVIPRO started in "NelloLupori" Experimental Farm in UNITUS: the meeting was opened by Project Coordinator Professor Nicolo Merendino who presented the objectives of this study tour and wished everybody effective working days, while Andrey Girienko presented the frameworks and principles of SWOT methodology for the Armenian and Georgian HEIs which needs to be carried out for the environmental academic programmes. In the first part of the study tour, Head of Foreign Affairs Department of NAS RA made a presentation on the features of ISEC activities, the accreditation procedure in Armenia, ISEC's background and experience of accreditation, the findings and follow-up activities, as well as the latest development in the higher education sector in Armenia, where Davit Pipoyan, ISEC lecturer in charge of the internationalization of 'Environmental Protection and Nature Management' Master program at ISEC presented the structure, departments and research carried out at Center for Ecological Noosphere Studies of NAS RA, where ISEC's charge of the internationalization of 'Environmental Protection and Nature Management' chair is based, as well as the research carried out by the unit he leads - Informational-Analytical Center for Risk Assessment of Food Chain.

Afterwards, NAS Coordinator of MENVIPRO project Gevorg Tepanosyan and ISEC lecturers Olga Belyaeva and Shushanik Asmaryan presented their departments and specifically the research carried out at departments of environmental geochemistry, GIS and remote sensing, and radioecology.

In the second half of the meeting, Georgian counterparts presented their universities and the Georgian experience of accrediation. It's noteworthy to mention that the academic programs in Georgia are almost all accredited. At the end of the first day, the European partners presented the courses their teach, their content in brief and certain information about their syllabi.