Lecturer of the Department of Economics and Management of the Master's degree program of the ISEC NAS RA Narine Manukyan, in Poland
April 19, 2019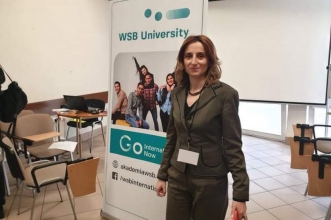 Within the frames of Erasmus + International Credit Mobility Program, Narine Manukyan, Lecturer at the Department of Economics and Management of the Master's degree program of ISEC NAS RA, delivered lectures at International University of Dabrowa Gornicza on April 8-12.

Narine Manukyan also participated in the events organized by the University for International Staff Week and the International Students' Day.

During the visit, the University hosted a student competition of European interdisciplinary innovative ideas organized by the University of Stuttgart The jury also included a lecturer.