ISEC plays a crucial role in my self-development and personal growth
June 15, 2022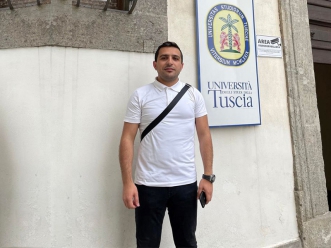 Hmayak Poghosyan, a 1st-year Master student of Business Administration Department of International Scientific-Educational Center of NAS RA, is currently studying at Tuscia University in Italy within the framework of Erasmus+ Credit Mobility Program.

We talked with Hmayak about the education he received at Tuscia University in Italy, as well as the opportunities provided by International Scientific-Educational Center of the NAS RA.

- My name is Hmayak Poghosyan. I am studying at Business Administration Department of International Scientific-Educational Center of the RA National Academy of Sciences. I studied at Pekin Pedagogical University in China before, and I am currently continuing my studies at Tuscia University in Italy. I master four foreign languages: Russian, English, Chinese, and at this moment I am improving my knowledge of Italian language.

I am striving to improve my professional activity in the field of import and export.

I like to spend my free time in a friendly environment. I often organize football watch parties with my friends, also like to read.

ISEC NAS RA offers a very flexible and advanced Master's degree education program on Business Administration. By the way, I would like to note that teaching here is very convenient in many ways, because it is completely run in online mode.

The subjects included in the program provide quite in-depth and practical knowledge to master business management, which I will use for sure in my future professional activities.

Having lots of partner educational institutions abroad, ISEC provides students with unique opportunities to accumulate rich knowledge and experience in prominent international universities as well.

This is an amazing opportunity for students who, in addition to getting a quality education, also wish to travel, get to know other cultures and develop their personal potential. I am happy for my timely decision, realizing that the Center plays a crucial role in my self-development and personal growth.

Considering to be one of the best higher education institutions, University of Tuscia provides students with excellent conditions.

The learning process is conducted by integrating modern methods and using the newest technologies. Italian language courses for students from other countries are also delivered here.

My advice to newly enrolled students of ISEC to definitely participate in international exchange programs and combine international experience with education received at ISEC, thus becoming a competitive and sought-after specialist.

ISEC greatly contributes to this process and motivates to do your best. I recommend to students to be more active, to participate in various programs run and offered by ISEC which provide a great opportunity for professional growth and self-development.


Public Relations and Career Department of ISEC NAS RA