"Thanks to ISEC I got new skills and knowledge, gained new friends and sweet memories", an ISEC postgraduate student,"- A. Yavryan
March 21, 2023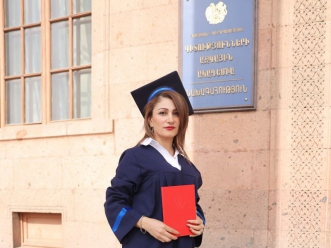 Astghik Yavryan is a postgraduate student of the Department of Management of the International Scientific-Educational Center of NAS RA.

"My first specialty is pretty far from economics and management, hence I decided I should get a master's in administration and management. At that time, I was hesitant to choose a university where I could get my master's degree, and thanks for the helpful advice of my friend, I chose to study at ISEC as I was impressed by my friend's stories about the professionalism and scientific knowledge of teachers, who willingly share their rich practical knowledge with students," - says Astghik.

Speaking about the Center, Astghik emphasizes that thanks to the professors' high professionalism and human qualities, she acquired the knowledge and skills which subsequently ensured her significant professional development.

Astghik is sure that only a knowledgeable and responsible specialist can succeed at work, also highlighting the right choice of profession and love for the work he is engaged in.

"Thanks to ISEC I got new skills and knowledge, gained new friends and sweet memories, and I would strongly recommend the enrolled students to constantly study, because learning is a sustainable process and the best source of self-improvement," concludes Astghik.


Public Relations and Career Department of ISEC NAS RA