"As for myself, the best postgraduate study option is ISEC NAS RA," Eliza Keoshkaryan, ISEC student
July 19, 2022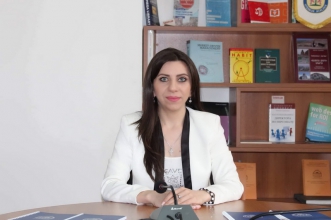 Eliza Keoshkaryan has graduated this year from the Social Pedagogy Master's program of the International Scientific-Educational Center NAS RA, while she is the head of the Students' Science Council, also working in the Support Services Department of the Republican Pedagogical-Psychological Center as a social pedagogue.

Eliza received her bachelor's degree from the Armenian State Pedagogical University after Kh. Abovyan, graduating with honors from the Department of Social Pedagogy of the Faculty of Psychology of Education and Sociology.

"I love working with children and imparting new knowledge to them, and that is what made me choose my profession. As for myself, the best postgraduate study option is ISEC NAS RA, since famous scientists and experienced professors teach here, who strive to inspire students by equipping them with knowledge in compliance with current requirements. ISEC NAS RA closely cooperates with advanced international universities. Hopefully, one day, I will get a chance to keep on my studying at one of those universities."

In the framework of her professional activities, Eliza is fond of organizing trainings for novice professionals, and she is also keen on conducting prof-orientation consultation for teenagers.

Eliza recommends to future undergraduate students to definitely study their postgraduate program at ISEC and get a high-quality higher education. "In addition, the part-time and distance Master's degree programs of ISEC provide extensive opportunities for students who work while studying."


Public Relations and Career Department of ISEC NAS RA