"After completing a Bachelor Degree, the path to science should be sought in the academic environment," Grigor Ayvazyan, ISEC student
June 28, 2022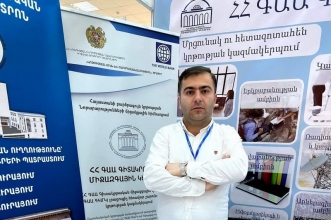 Grigor Ayvazyan is a postgraduate student of the Department of Environmental Protection and Natural Use of the International Scientific-Educational Center NAS RA.

Grigor received his bachelor's degree at the Geography Department of the Faculty of Geography and Geology of YSU.

"The love for nature and surrounding world drew me to geology, and when I was thinking about applying for a Master's degree program, I realized that after having completed the Bachelor's degree the path to science should be sought in the academic environment, which became possible at the Department of Environmental Protection and Natural Use of the joint department of ISEC and Ecocenter where along with studying, theoretical knowledge is strengthened through practical courses," says Grigor.

Thanks to his hard work and determination, Grigor was admitted to work in Geoscience and Remote Sensing Department of the Center for Ecological-Noosphere Studies NAS RA.

In his free time Grigor likes reading professional literature striving to enrich his professional knowledge, and also likes being engaged in amateur cycling.

"Aiming to continue my path to science, I want to pursue my postgraduate studies at NAS RA Center for Ecological-Noosphere Studies which will allow me the opportunity to establish myself as a geologist and find my unique place in fantastic world of science."

Grigor advises the future students to take advantage of unique academic environment of ISEC, receiving a research-based education, which certainly contributes to rapid acquisition of professional abilities and success.


Public Relations and Career Department of ISEC NAS RA