Armenian Delegation at Toulouse III - Paul Sabatier University (France)
May 6, 2017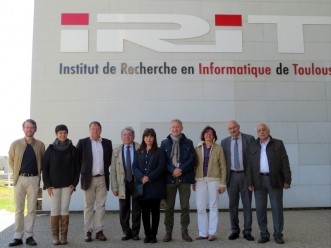 In the frames of Erasmus Credit Mobility Project with Toulouse III - Paul Sabatier University the Armenian Delegation consisting of the academic staff of "Informatics and Computer Engineering" Department of ISEC NAS RA and and research staff of the Institute for Informatics and Automation Problems of NAS RA paid a visit to Toulouse III - Paul Sabatier University, where with their French counterparts they discussed the current status and improvement actions for the Master students educational cycle. The following actions were decided to b taken:
To give a possibility to Armenian students work on research implementation and get additional credits.

To choose one or two courses available in the UPS curricula and seek to synchronize them.

To make right balance between curricula's of ISEC and UPS. Both courses were distributed during the meeting.

To finalize the names of supervisors and the topics of Master students from both sides.

To prepare small research topics for the selection of master students for the next round.

To organize French courses for both master and PhD students staying in Toulouse.



All the members of Armenian delegation visited to the CALMIP supercomputing center to get familiar with the key parameters of the supercomputer, which is planned to transfer to Armenia.
Mr. Jean-Pierre Vinel, the President of the Toulouse III - Paul Sabatier University, welcomed the Armenian delegation and the director of IRIT; Armenian French framework cooperation agreement was greeted.
Mr. Michel Dayde, Mr. Pierre-Henri Cros and the members of Armenian delegation had a wrap-up session to finalize the list of the activities. Detailed TO DO LIST was compiled for the forthcoming work activities.
The visit is concluded by the meeting of IRIT and Armenian delegations with the Armenian Association in Toulouse.