We had to be on the battlefield, because there were our brothers, our eighteen-year-old innocent boys.
February 3, 2021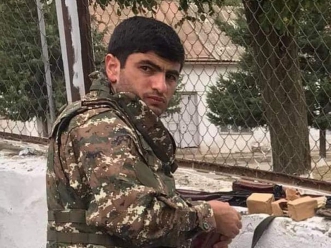 Most of the country's intellectual capacity is concentrated in the RA National Academy of Sciences, and one of the basic institutes of the NAS system is the International Scientific-Educational Center, where master's and PhD education is conducted. The center's students have always replenished the nation's workforce, standing out with their human-professional values.

The war in Artsakh could not make the ISEC NAS RA students indifferent. Many of them engaged actively in the war. The head of the center's public relations and employment department spoke to two of the valiant students, Manuel Manukyan and Eduard Manukyan, who fought on the front lines.

Manuel Manukyan's hands and right leg were severely wounded. The Sisak detachment's brave boys on the front line managed to get him out of position.

— On the 27th of September, when we heard about the battle, we went to Artsakh at 6 pm with six colleagues. We were in the Hadrut army unit on September 28, where I served from 2014-2016 and participated the April War. We had to be on the frontline and we had to come to the aid of our 18-year-old innocent brothers. The fighting spirit of the boys was very high, and in their actions they were very strong and confident. They didn't think about it, waiting impatiently to reach them with the next tank. "They fought bravely with great enthusiasm, doing the impossible," Manuel says.

When he saw what kind of guys he was standing next to, what feats they were capable of, his joy doubled.

- We were thinking most of all about destroying the enemy, hitting new tanks. We were thinking about people who were dear to us, our parents, our families, our girlfriends, and, most importantly, our holy homeland. We've done all we can to win, not to give in to the enemy.
Manuel remembers his dead friends with sadness.

—I will never forget our friend Mush, who struck four tanks from which the enemy tanks were destroyed by infallible blows. Unfortunately, right next to me, Mush, Artak and Van died heroically, half a meter apart. Only by God's miracle did I survive. When my friends fell, they were about to stop the counterattack of enemy tanks. God saved me to speak about the heroes, to keep their memories alive at all times.

Eduard tells how, during the worst days of the war, he and his older brother approached family members who were still in a state of panic, agreeing to go and pay their debt to the homeland. Nobody could have stopped them.

We had just gone. It was day two or three. We were part of a team. Even though they were not even 30 years old, there were 5 boys with us who had experience of participating in the war. A boy (we called him "crazy") was with us and he was really brave. When we heard the sounds of the UAV approaching, we were in the trenches. When we heard any noise, we were told to cover.

We found unexpectedly that Crazy was coming out of the trench, trying to locate the UAV to strike. From a side location, some people managed to shout that it was an Armenian unit. Really unhappy, the Crazy returned, and when we asked him why he came out because we were told to hide, he said he wanted to see it up close. The fighting spirit of the boys was strong indeed. Everyone understood where they were coming from, why, that they were more likely not to go there. "The boys all stayed in their positions until the end," says Eduard.

It is hoped that everyone will take the enemy more seriously, not underestimate his power, that the traitorous kind will vanish from us, which is why we have lost much of Artsakh today.