Armenian Army's Grateful Ones
February 10, 2021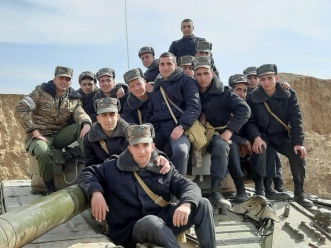 Vahe Ghahramanyan - Student of the International Scientific-Educational Center of NAS RA

He was born on January 31, 1997 in Odzun, Lori region.

In 2014 he graduated from Tigran Mets Military School, from 2014-2018 he studied and graduated from Vazgen Sargsyan Military University. He was appointed as commander of a tank platoon in the military unit of the Defense Army, after graduating from the university.

Vahe was a master student of Psychology program at the ISEC NAS RA. His dissertation was soon to be defended. Hero Vahe's mother, Mrs. Emma, was talked to by the ISEC Public Relations Department. Mrs. Emma proudly speaks about the adventures of her son, his spirit of war, and his deep determination to conquer Baku.

Since September 27, Vahe has been involved in military operations in the Defense Regions. His comrades-in-arms and commanders speak of his participation in several heroic episodes. As of October 3, more than 15 enemy tanks were destroyed by Vahe with his tank. They say how, under Lieutenant Colonel Bazikyan's command, he destroyed several IFVs and enemy observation points with 1 tank in the direction of the Yeghnikner (7th Infantry Division).

Fierce battle occurred in the direction of Fizuli-Jabrail on October 7. Vahe managed to evacuate several injured and dead friends from the battlefield during the first battle. On the same day, he was in the spotlight for 20 hours in a row during the second fight. These are just some episodes of the adventures of our Armenian hero.

Sadly, there's still no news from Vahe.

Classmates address the absence of Vahe with unspeakable pain. Raya, the head girl of the course, says that Vahe had been living since childhood and was growing up in a military way.

-Vahe was a professional military man, very well known to all, a very kind, balanced and dedicated young man. I can't recall any of the negative episodes connected with it. "Vahe's absence has had a profound effect on each of us," Raya said.

The "Combat Cross" order of the first degree is presented to Vahe Ghahramanyan.

The entire staff of the ISEC NAS RA expresses their appreciation and support to the families of all boys who fell during the fight.

Eternal glory to our Heroes!

Eternal glory to Vahe !