Summary of the AFFISHE project kick-off meeting
January 27, 2023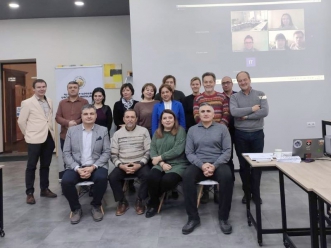 On 27 January, 2023, the third day of the kick-off meeting of "Development of Aquaculture and Fisheries Education for Green Deal in Armenia and Ukraine: FROM EDUCATION TO ECOLOGY" (AFISHE) Erasmus+ CBHE jointly implemented by International Scientific-Educational Center of NAS RA, Armenian National Agrarian University and Scientific Center of Zoology and Hydroecology of NAS RA, was organized at the coordinating university- Armenian National Agrarian University, during which issues related to the program's coverage and impact were discussed.

Tatjana Dobroslavić, the representative of the University of Dubrovnik (Croatia), presented a preliminary version of the AFISHE project website, during which the participants made their observations on improving the content of the website. Then, the first coordination meeting of the project was held, at which the activities envisaged in the first 6 months of the project were discussed, program priorities and clear deadlines were defined, additional clarifications were given if necessary. All the participants of the expert group expressed their satisfaction with the dynamic progress of project implementation.

The final day of the kick-off meeting ended with a cultural component. The European partners, accompanied by the Armenian coordinators of AFISHE project, visited Mesrop Mashtots Research Institute of Ancient Manuscripts (Matenadaran) located in the center of Yerevan, which is registered in UNESCO's World Network of memory and is considered one of the important places for the preservation and development of Armenian national memory. The cultural tour in the treasury of the intellectual heritage of the Armenian people made a great impression on the guests, again reconfirming the significant role of the scientific research institute and museum which has an exceptionally valuable manuscript collection, as an institution of international recognition and high ranking, which has also become one of the landmarks of Yerevan and Armenia in the whole.


Public Relations and Career Department of ISEC NAS RA