"Scientists of ISEC have devoted their whole lives to the science", Karine Avetisyan, a Master's student of ISEC
January 17, 2023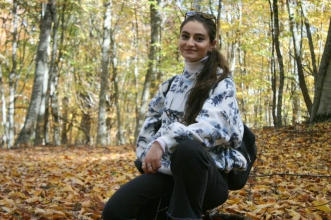 Karine Avetisyan is a second-year Master's student at the Department of Geology of the International Scientific-Educational Center of the NAS RA.

Karine received her bachelor's education at the Department of Biology of Armenian State Pedagogical University after Kh. Abovyan. Later on, by participating in various educational expeditions and delving deeper into geological science, a desire arises to deepen knowledge both in that field and in the field of archeology, which is an intermediate science between biology and geology and makes it possible to reveal the historical past of the development of earth's structure and composition.

"Scientists of ISEC have devoted their whole lives to the science, have a wealth of experience and a great desire to share their knowledge with students. In addition, the Department of Geology also provides students the opportunity to continue their education in leading universities of Europe, thus motivating me to choose my master's education at ISEC NAS RA", states Karine.

Karine is interested in fossil remains and minerals, has a large personal collection, which is constantly replenished, and she intends to exhibit it in a museum or to establish a new geological museum in the future.

"I love art, drawing, singing, reading fiction books. In my free time, I like to go hiking, discover the most hidden but mysterious corners of my country. I can't help but also remember my four-legged friends, my doggy Max, who is an inseparable friend of my trips, and my kitten Motsi, who is also a big and integral part of my daily life," Karine notes, while talking about her interests.

Along with her studies, Karine is also engaged in science. She works in the Laboratory of Lithology and Regional Geology of the Institute of Geology of the NAS RA, studies fossil organisms, through which it is possible to discover the past and find out the earth before humanity. In addition, she also works at the Institute of Molecular Biology, where she studies molecular genetics, maintaining the link between biology and geology.

"After completing my master's degree, I want to continue my post-graduate studies. And I advise the future masters to constantly study, self-educate, develop, work, be engaged in science and choose the master's education program of ISEC, taking advantage of the wide opportunities provided by the Center, which are one of the keys of having a promising future", concludes Karine.

Public Relations and Career Department of ISEC NAS RA