"Do not miss your chance to become a respectful family member of ISEC," Ellen Ghukasyan, ISEC student
June 8, 2022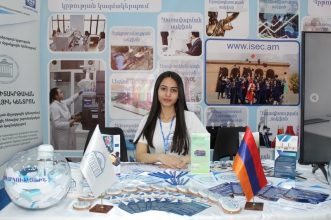 Ellen Ghukasyan is a postgraduate student of the Department of Management of the International Scientific-Educational Center NAS RA.

Ellen is one of the best students of ISEC, an active member of the Student Council. She is goal-oriented, very dreamy, and believes that even the most seemingly unrealistic dreams can come true if we believe and follow our dreams. She is actively involved in interesting programs related to various spheres of public life, is also engaged in volunteer work. She remembers her entrance to ISEC NAS RA with joy and enthusiasm, and numerous memorable days and moments that she has spent at her lovely Center.

Ellen invites all the future managers to apply for ISEC postgraduate program of the Management Department, since:
students are taught by highly qualified and respected specialists in the field of education and science, who are making an invaluable contribution to education process with unfailing dedication, knowledge and experience,

the Department cooperates with the University of Tuscia in Italy with the award of a double diploma in this specialty,

the Department cooperates with many other foreign universities enabling students to receive education in line with international standards,

students have extensive opportunities to complete their internship courses in RA government bodies and ministries, as well as in leading organizations of public and private sectors.
"Don't miss your chance to become a member of our respectful family, we are looking forward to seeing you here," concludes Ellen.


Public Relations and Career Department of ISEC NAS RA