ISEC and FAST (Foundation for Armenian Science and Technology) on New Cooperation Prospects
December 28, 2021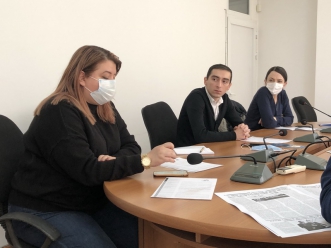 On December 24, the Vice-President on Strategic Programming at FAST S. Shamakhyan and Educational Programs Lead at FAST A. Ayvazyan visited the International Scientific-Educational Center of NAS RA. The meeting was attended by the Director of ISEC Dr. Sargsyan, Deputy Director for Research Dr. Hakobyan, Dean Dr. Mkhitaryan, Scientific Secretary Dr. Sargsyan, the Head of the Foreign Affairs Department A. Harutyunyan, the Head of the Department of "Molecular and Cellular Biology" G. Mkrtchyan and the Specialist of Public Relations and Career Department M. Nersesyan.

The main mission of the Foundation is to create a favourable "ecosystem" that drives technological innovation and scientific advancement in Armenia and abroad. It aims to unite the scientific, technological and financial resources of the Armenian and international community. The programs are implemented in three main directions: education, research, and commercialization of research products.

During the meeting, Ms. Shamakhyan emphasized the importance of cooperating with ISEC within the framework of the "SciNova" program implemented by the FAST Foundation. As to her: "The goal of our program is to continue implementing the "Research Methodology" and "Science Commercialization" programs in the existing comparable programs, based on ISEC needs and the implementation models as well as the involvement of ISEC NAS RA faculty in the upcoming trainings''.

Up to 5 lecturers from ISEC are expected to be involved in the trainings, who will be trained by "SciNova" corresponding staff and later will teach the courses on "Research Methodology" and/or "Commercialization of Science". "SciNova" targets the natural sciences and mathematics within this program. The training will consist of three modules:


Research Methodology

Commercialization of Science

Teaching Methodology

In the end of the constructive meeting the partners reached an agreement to meet again in the near future to discuss opportunities for further joint cooperation in other frameworks.