Cracow Pedagogical University Geography and Biology Department Lecturer Joanna Zawiejska at ISEC NAS RA
May 7, 2019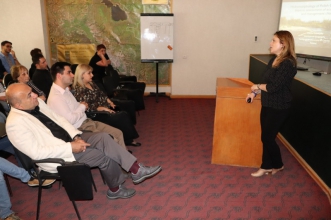 On May 6, 2019, the Department for Environmental Protection and Nature Management of ISEC NAS RA located the Center for Ecological-Noosphere Studies NAS RA hosted Joanna Zawiejska, a lecturer from Geography and Biology Department at Pedagogical University of Cracow for meetings and professional lectures.

During the meeting, Joanna Zawiejska presented an overview about Pedagogical University of Cracow and later she delivered a lecture on "Hydromorphological quality as main element of ecological status of mountain rivers (the Polish Carpathians)".

The same day a meeting was held at Erasmus+ National office to discuss the ways of promoting and diversifying ways of Armenian-Polish cooperation and collaboration.