"ARMDOCT" project working groups continue work according to schedule
November 13, 2020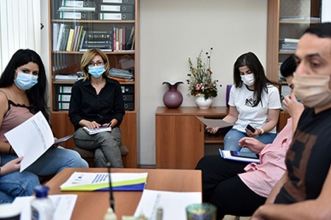 The online meetings of the 2nd working group of ARMDOCT program took place on October 19-21 of this year.

It should be reminded that the International Scientific-Educational Center of NAS RA is one of the participating universities. In general, the program includes 9 Armenian universities, the Institute of Informatics and Automation Problems of the National Academy of Sciences of the Republic of Armenia and the Ministry of Education and Science of the Republic of Armenia.

The purpose of the meetings was to:


select and appoint coordinators for each WP2 taskforce

organize WP2 taskforce activities

set deadlines for WP2 taskforce activities.

Kristina Tsaturyan, Head of the Department of External Affairs and International Cooperation of Brusov State University introduced the participants the aim of the meeting and the main points to be discussed.

It was mentioned that 5 taskforce groups had been created in the framework of WP2 devoted to the development of the policy and the legal framework for the new Doctoral Education.

According to the agreement, the taskforces should develop a concept and legal framework with regard to the policy, admission and organization, awarding degrees, etc. Coordinators have been appointed for each target group to ensure the smooth running of the target group. The list of institutes coordinating taskforces are presented below:


Ministry of Education, Science, Culture and Sports of the Republic of Armenia /MESCS/ for Taskforce 1 (State policy on doctoral education)

Yerevan State Medical University (YSMU) for Taskforce 2 (Admission to doctoral programmes)

Armenian State Pedagogical University after Kh. Abovyan (ASPU) for Taskforce 3 (Organising doctoral programmes)

National Academy of Sciences for Taskforce 4 (Awarding degrees in doctoral programmes)

National Polytechnic University of Armenia for Taskforce 5 (Ensuring the link between science and economy).

The taskforce members decided to further have in-group meetings and discussions on the activities to be carried out.

During the meeting it was mentioned that a template had been developed, according to which the final result of WP2 should be presented.

The deadline for the submission of the initial draft version of the WP2 outcome of each taskforce was set on November 2, 2020. The deadline for the final version was agreed on November 9, 2020.