Department of Economics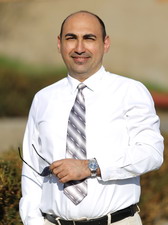 Head of Department
Aram Tornik Simonyan
PhD in Economics, Associate Professor



The Chair of "Economics" of the International Scientific-Educational Center of the National Academy of Sciences of the Republic of Armenia was established in 2020. The department's establishment was conditioned by the need to train competitive market experts, specialists in customs affairs, and finance in the era of modern technologies. The chair envisages admission of master students in the field of international economic relations soon. The master's degree education in the chair is organized in the form of distance learning too.



---
Department Objectives:

The Chair of Economics aims to train economists in high demand in the current labor market, particularly finance and marketing.
Students study the theories of financial and monetary policy necessary for a competitive specialist, the research methods, tools, and techniques required for market experts that are the cornerstones of the field's success.

The Chair of Economics sets itself the particular task of ensuring the acquisition of practical skills and abilities of master students in the fields mentioned above and the development of research and analytical skills. In particular, within all the courses taught at the department, practical independent works, research-analytical assignments are assigned.

In addition to the practical tasks carried out during the courses, the students undergo scientific-pedagogical-research internships in the leading organizations of the field to allow students to try their skills in a real work environment.

---
Specialization – Finance, Marketing, Customs Affairs

---
Research Works
Highly qualified specialists with an excellent reputation and international experience in education and science deliver lectures in the department. Special attention is paid to the chair's internationalization, which is conditioned by holding lectures, seminars, and scientific discussions in English with local and foreign specialists.

The chair pursues the professional training of lecturers, a publication of manuscripts in scientific journals, participation in professional conferences. The faculty participate in various domestic and international conferences, present their research results, and are published in high-ranking international scientific journals.

Research directions

Socio-economic approaches to corruption research, information systems management, quantitative and qualitative research on the effectiveness of market structures, corporate finance

Short bio

Aram Simonyan is an Associate Professor of Economics at the International Scientific Educational Centre of the National Academy of Sciences of Armenia, where he works as a Chair of the Economics department. Advanced in eight languages, he held visiting positions at multiple European universities. He was a Weiser Professional Fellow at the Gerald Ford School of Public Policy at the University of Michigan in 2018 and a visiting Fulbright Scholar at the Ross School of Business at the University of Michigan in 2019-2020.

Dr. Simonyan's primary research focuses on corruption, bribery, developing economies, and social norms in Eastern and Western Europe from a socio-economic perspective. His last two co-authored publications were in Small Business Economics (2018) and Business & Society (2020).

The Faculty


---
Tel:

E-mail:

---